When I set out to research what a driverless car economy might look like, my main focus was the impact on people's jobs.  I'll get to that in a moment, but first…
I want to touch briefly on a different aspect of our lives where autonomous vehicles will have an impact.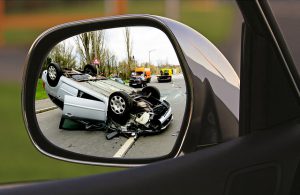 More than 3000 people are going to die TODAY in a road accident. Another 3000 will die TOMORROW.
I turned on the news this morning to see an aerial shot of a car torn to shreds and scattered across the highway. Another local fatality… just like yesterday, and the day before.
As mentioned, the effects of this new technology on employment was what I originally set out to talk about.
However, these recent fatalities had me reconsidering my approach. I couldn't help thinking of the family and friends who just had their lives shattered.
As a father, it's a terrifying reminder that parents can… and do lose their children. It's also devastating to imagine a child dealing with the loss of their Mom or Dad.
Everyday, someone is losing someone because of poor judgement behind the wheel.
Research looks at statistics, which are certainly important to study. But, every statistic is a life, and every life is a story that statistics don't capture.
For those who have lost loved ones in a vehicle accident, this isn't a story about technology's impact on the economy.  It's a story about a technology that will save lives.
So what was I thinking? I had planned to write about the "economic" disruption these advances will bring, but I was missing the point.
The focus of this article is still future of employment, but I wanted to begin by emphasizing that… at least in my opinion… despite the negative impact we'll likely see regarding jobs, the net benefit to our lives, and our environment… will be positive.
There are 4 areas where technology is disrupting the automotive industry.



 

Crash avoidance systems

 Autonomous vehicles.
 Alternatives to internal combustion.
 Car sharing programs
For now, we'll just have a look at the first and second.
Fully autonomous vehicles will come, but the precursors to that are crash avoidance systems. Alone these systems could potentially rock the employment world.
Fully Autonomous vehicles will exacerbate this disruption.
Crash Avoidance and The Impact on Jobs?
Crash avoidance systems aim to reduce accidents. This is good, as mentioned earlier. Despite the potential disruption to employment, I am in full support of these systems.
We can't ignore the economic impact however.
One example…
For more than a decade, both my wife and I operated distribution centers in the automotive parts industry. Our primary products were found in the front of the vehicle… radiators, air conditioning condensers and cooling fans.
In most accidents, at least one vehicle receives front end damage. Therefore, much of our business was dependent on repairing that damage.
If front crash prevention systems are effective and significantly reduce accidents, those working in the automotive parts and repair industry might find their businesses evolving.
In our case, fewer accidents may have prevented us from opening in new markets entirely.
What If Accidents Were Rare?
While we are only discussing a narrow line of products here, and other factors need to be considered… It's possible that disruption will occur in the following areas,
Aftermarket parts engineering
Aftermarket manufacturing jobs
Manufacturing supplies, equipment etc.
Packaging, and packaging materials production
Shipping
Warehousing and distribution
Sales and administration (related to automotive aftermarket parts)
Autobody repair
Autobody supplies (such as paint and equipment, masks and so on…)
Autobody estimations and insurance adjusters
General automotive repair and maintenance (it will be increasingly difficult for independent repair shops to keep up with the specialized, and secure systems of each manufacturer.)
New Opportunities
The good news is that these crash avoidance systems will require new skills and knowledge.
Sophisticated sensors and control devices will need to be manufactured, installed and maintained.
For all of this talk about safety, there is a downside to these lifesaving features that could seriously harm us. Hackers.
It's one thing to take down a website, or mess with banking information. It's something entirely different when a hacker can pin the throttle and disable our brakes.
As cars become fully connected and fitted with autonomous controls, the demand for experts in cyber-security will explode.
Those with both automotive and electrical trades will be in demand. The more connected devices (wires) that exist in a vehicle, the more opportunities for one to fail. Being able to diagnose and locate these problems efficiently is important. Competency in this area will set some technicians apart from others.
Will These Systems Reduce Accidents?



Statistics may not tell our individual stories, but they do paint a picture… and the statistics shocked me.
On average, road accidents cause 3,287 deaths per day, or 1.2 million per year according to The World Health Organization (WTO).
The WTO also estimates that 50 million people are injured every year. 50 million! Nearly 90% of the world's countries have a population that's less than 50 million people. That's like every single person in Canada, Greece and Norway being injured in a road accident… every year.
Accidents are the leading cause of death for people aged 15-29. And yet, they are largely preventable unlike some other leading causes of death… like cancer. Accidents are just part of life… an acceptable risk for the privilege of efficient transportation.
Prevention Methods 
There are 5 steps on the hierarchy of hazard controls.
Elimination (don't drive or go outside)
Substitution (Replace personal vehicles with other safer and more controlled public transit … trains for example)
Engineered Controls (ABS braking, stability and traction control, daytime running lights)
Administrative Controls (better training, more stringent vehicle maintenance and inspections as well as stronger enforcement of the laws.)
Personal Protective Equipment – last line of defense. (seatbelts, airbags, headrests)
Engineered Controls
A few of the accidents on my local news occurred because someone crossed the center line. This can happen to any one of us. It doesn't matter how attentive we are, how well maintained our vehicle is, or how quickly we can react. Someone can easily cross the center line in front of us and change everything.
We trust that every driver we meet on the road is fully capable and aware. But if that were true, we wouldn't have 1.2 million fatalities every year.
An estimated 90% of automotive accidents are human error. Engineered controls attempt to augment our abilities, to see and react to the things we miss.
Front Crash Prevention
We bought a new SUV two years ago. Of the 5 or 6 we looked at, two of them had a relatively new feature called adaptive cruise control, which uses all weather radar sensors to maintain a set distance between you and the vehicle in front.
One of those vehicles, a Subaru… used it's radar sensors for an additional purpose. In a parking lot at lower speeds the Subaru EyeSight system would recognize if someone walked out in front of the vehicle, then automatically apply the brakes to avoid hitting them.
That was 2 years ago. Today approximately 50 percent of new vehicles have optional front crash prevention features. Autonomous braking is now available as an option on 27 percent of today's models.
These systems are new and statistics vary among manufacturers. However, the trend is promising. Depending on the type of claim and the manufacturer, reductions in claims vary between 15 and 35 percent.
As the technology improves and current vehicles get replaced with newer ones, the benefits will be significant.
More advanced versions of these systems can do things such as pretension seatbelts and adjust headrests to reduce the chance of injury if a collision were to occur. Some might use night vision to provide audio and/or visual alerts to let the driver know something is in the vehicle's path.
Other crash avoidance systems include,
Blind spot detection
Lane departure warning and keeping systems
Park assist
Back-over prevention
Curve adaptive headlights
Fatigue recognition
Vehicle to Vehicle communication (V2V)
Other Factors
Will Automotive body shops be shutting down all over the city? Will manufacturing come to halt? No, of course not. The severity of crashes will hopefully decrease and in theory, vehicles with autonomous braking should reduce collisions overall.
In some industries however, only a small percentage drop in business can turn a profit into a loss.
As we've seen with safety devices such as seatbelts and airbags, there is a precedent for widespread adoption of safety features. If these systems are successful at reducing accidents, there will be significant pressure to make them law.
The EU is is already considering making autonomous braking mandatory, particularly in heavy trucks.
However, there are other factors to consider. The number of cars on the road today is predicted to climb. On the other hand, there is also evidence that suggests cities in the future will be designed to curb car ownership… or at the very least, reduce the need for one.
This may be a welcome change for many. Cars are expensive. Car payments can be an albatross around the neck. If you've got a nice car, there's worry about damage and theft. Then there's fuel and maintenance.
Life is becoming increasingly complex and it's possible that future generations just won't regard vehicle ownership as a priority, or a necessity.
The popularity of car sharing programs such as Zipcar and Uber may have an impact on the number of cars sold.
What will emerging economies look like?
What will our economy look like? Another recession like the one we had in 2008 would have a devastating impact on new car sales. Under those circumstances, people would likely keep their cars longer which will postpone widespread adoption of these new features.
General automation and 3D printing will cause significantly more economic disruption than a reduction in vehicle accidents.
But, crash avoidance systems are just the opening act. They will lead us into the next era of the automobile. A real job killer. The fully autonomous vehicle.
What are your thoughts on autonomous vehicles? Are they coming, and will they have a significant impact on jobs?
Comment and share your thoughts below.