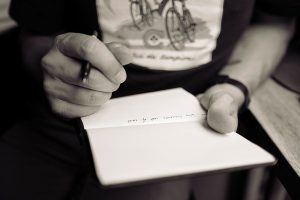 One of the most powerful tools successful people use to organize their thoughts and become more efficient, is a private blog… or for those of us that pre-date blogs, a journal.
Psychologists, as well as personal development coaches such as Anthony Robbins, Robin Sharma and Tim Ferris recommend keeping a journal.
Our economy is shifting. As the rate of change accelerates, it's now more important than ever to become proactive, to plan with purpose and improve self-awareness.
We don't always know what our next move should be, but whatever it is… we can increase our chance of success by being ready for it.
We can do that in a number of ways. In addition to things such as upgrading our education, or learning a new skill… we should also be taking care of our physical health and… mental well-being.
One of my favourite things to do is drive. I can indulge in this guilty pleasure for hours just so my mind can wander. The car is my place to think.
Some people go for walks, or ride a bike (something I need to consider). Others go fishing, or just sit on a park bench. Everyone is thinking… every second of every day. It's enough to drive a person crazy.
To add to the madness, we usually have the same handful of thoughts, over and over.
…and over.
Can't Finish A Thought?
Humans have a surprisingly poor short-term memory. As sophisticated and brainy… as the brain is, the region that stores our short-term memories is quite pathetic. It's measured in seconds.
Without taking your eyes off of this line, try to remember what the third sentence of this article is.
Our short term memory ranges between 15 and 30 seconds.
It's no wonder we can't finish a thought.  We begin to think about something, but before we can follow it out to a reasonable conclusion, we are often interrupted by emails, texts, kids, or someone pulling out in front of us.
Our thoughts don't usually return to where they were.
It could have been a good thought, excitement over a new car for example. Or it could be an argument you just had that's lingering in your mind, playing itself out multiple times.
Quite often it's something more persistent. Discontent with a job for example, or some other situation that's been bothering us for months, or even years.
Within seconds of a particular thought, a new one is formed and squeezes out the old one. The new one may be an extension of the one before. However, somewhere down the line, we get interrupted by something unrelated which leaves our original thought process unresolved.
Repeating the Process
Eventually we come back to whatever it was we were thinking, but again… before it's resolved, it gets bumped aside by another thought or distraction.
Our brains often operate like an 80's video game. There was no SAVE PROGRESS in Donkey Kong.  You died, you started over.
The same thing happens in our heads. A thought process begins, but before our brains can follow that process to a partial resolution or conclusion, we get interrupted. Progress is lost.
So,for many of us… we go for drives, walks, and bike rides trying to extend the process and eliminate distraction. To think.
But even then our minds wander causing us to return to the same thought process from the start.
As a result, we go weeks… even years sometimes having the same thought. Who wants to dwell on the same thing year after year?
Breaking the Pattern
Of course, our minds are much more complex than that. There's more going on upstairs than just internal dialogue, but this repetitive voice in our heads dominates a large part of our day.
How do we break this endless loop of restarts?
Quite often we use entertainment to interrupt it. TV, video games, social media, a good book… Whatever distraction we can find to get a break from the exhaustive pattern of repetitive thought.
Eventually though, persistent issues return.
Thankfully, there is something we can do to help us make sense of our thoughts… to give them order and perspective.
Write them down.  Get them out of your head and onto paper (or screen).
Just as a computer accumulates bits and bytes… it stumbles, crashes and slows down over time. Our brains also get cluttered with confusion and bad programming.
We need a reboot.
Writing A Private Blog
In the mid to late 90's I was somewhat obsessed with the new generation of big screen directors. I'm still a huge fan.
It was an era of low budget blockbusters that gave us Kevin Smith, Quentin Tarantino, and Darren Aronofsky just to name a few.
One of my favorites is Robert Rodriguez, director of hits such as the movie and TV series From Dusk Till Dawn.  He's also responsible for Sin City and one of our family favorites… the Spy Kids saga.
In the early 90's however, Robert Rodriguez was known for an extremely low budget movie called El Mariachi. He wrote a book about it called Rebel Without A Crew, and it was written as a series of journal entries that documented the process.
For some reason, this bizarre (for me at the time) journal idea resonated, and for nearly 20 years now I have been writing (typing) down my thoughts.
I had accidentally stumbled onto something important.
I didn't realize the therapeutic effect it would have at that time. I knew I felt better doing it, and it made sense that dumping the mental garbage out on a computer screen was a relief. But why?
As years of these private blog entries stacked up, I began to notice the recurring themes running through my head, the repetitive "life issues", and problems that never changed.
Little things change from day to day, but there were these core issues that did not.  They would always creep back into my writing.  If they hadn't been there for my own eyes to see, I wouldn't have noticed how repetitive they were.
Writing It Down Will Inspire Action
We all know someone that seems to complain about the same things, year after year. Even when times are good… they wish their life was this way, or that way.
Maybe you struggle with recurring challenges that have been frustrating you for years.  We all do it.
It might be a job we dislike, but we for some reason refuse to leave. It might be the money we always seem to owe, or the weight we intend on losing.  It could be a destructive relationship, or even a relationship we want to pursue but never do.  Maybe it's all of the above.
A funny thing happens though when you begin to write it down.  Over the months and years you might find that you keep coming back to the same things… again and again.
Then one day, your journal will say,
"What the hell am I doing?  Really!!!  Am I going to write about this one more time?" 
Maybe it won't come out exactly like that.  But the point is… when we don't write our problems down they can haunt us for years.
However, written down and in front of us, we begin to take a third person point of view of our thoughts.  As an outsider looking in… we really get sick and tired of hearing ourselves repeat the same thing over and over and over.
At some point, we have no choice but to take action.  Whether that means a life change, a conversation with someone or a simple choice not to think about it anymore… anything will be better than writing it down one more time.
Successful People Write Down Their Goals
This process works the positive things in our life as well.
You have most likely read that people who write their goals down achieve them more often than those who don't.
Similar to problems, goals when consistently written down become hard to ignore. Now you are holding yourself accountable.
For a goal not reached, or even attempted, how many times will you write about it and do nothing?
You might know someone who's been talking about their goals for years, never even taking a first step towards achieving them.  They probably don't even know that they keep they talking about them, or at least how long they've been talking about them.
You don't necessarily need to write out a list of goals. When I write for example, I just let my thoughts go where they take me.  Quite often they lead to the things I'd like to accomplish or change.
I never had a specific goal to make a website.  I wanted to… and it became a recurring thought in my writing.  Eventually I had to make a decision,
"Either do it, or don't… but stop writing about it."
So I did it.
Writing A Private Blog

 
If it's not something you already do, and you decide to embark on this private blog journey… there are a couple things to keep in mind. Getting your rhythm so to speak might take some time.  For many of us, being honest with ourselves is not easy.
I usually just start with,
"What's going on today?" or "So yesterday… this happened."  And, then I just let the thoughts flow and see where the writing takes me.  Sometimes to some unexpected realizations.
I try to make it a habit to include a few things. Gratitude. Asking better questions of myself. And, I always try to come up with some actionable goals that will move me in the direction I want to go.
Reboot
With your thoughts written out, it will help to clean out the clutter of your mind.  You'll also have an ongoing record of things you've thought and can hold yourself accountable, and sometimes ask yourself… "What the hell was I thinking?"
Written thoughts can be forgetten. They've been recorded, you know where to find them… so move on to new ones.
The journaling process enables us to work through our problems in an organized and methodical way, instead of just thinking about them.
We can increase productivity and become more efficient.
If time is your challenge, as it is for most of us… check out The 5-minute Journal .  Unlike a typical journal that just follows your thoughts, The 5-minute Journal is a guided format.  It focuses on things like gratitude, and asks specific questions like, "how could you have made the day better?"
Life is not easy, personal and professional challenges can be complicated. We need for every advantage we can get, and a private blog is just one more tool that will help us adapt to the future and live the life we want.
If you do journal, what are some benefits you have experienced?  If you don't, is it something you have considered starting?
Comment below and share your thoughts.